Laser Skin Treatments in Princeton NJ
Laser skin treatment is a non-invasive process that is used to remove wrinkles, acne scars, even out skin tone, and make the skin tighten.

Dr. Joanna Partridge

is a board-certified plastic surgeon who does this procedure in which a laser beam is used to vaporize the skin's outer layer and stimulate the synthesis of collagen to make the skin firmer and smoother. For more information,

contact us

or

schedule an appointment

online. We have

convenient locations

in Princeton, NJ, and North Brunswick, NJ to serve you.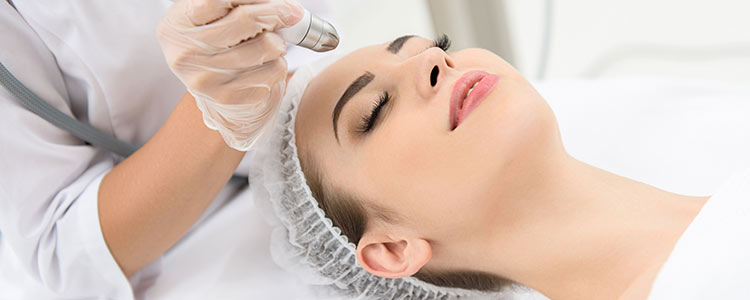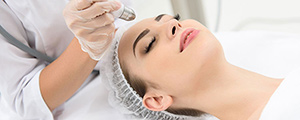 Table of Contents:
Is laser treatment good for the skin?
Who is a good candidate for laser skin treatment?
How does laser skin treatment work?
How long does laser skin treatment last?
If you are in search of a non-invasive skin rejuvenation treatment that provides long-lasting results, laser treatment could be a great option for you. With only minor discomfort following the treatment and avoiding cosmetic products for a few days, laser skin treatments can dramatically reduce the appearance of fine lines, wrinkles, scarring, and more in just one treatment with an ablative laser, providing you with youthful, glowing skin to boost your confidence for years to follow.
Is laser treatment good for the skin?

As long as the treatment is done by a qualified professional and the patient is considered a good candidate, laser treatment can provide many benefits that are very good for the skin. Since the lasers are very customizable, the treatments can be used to treat a wide assortment of concerns patients may have with their skin. Laser skin resurfacing works to make your skin look healthier and younger than ever by treating points of concern such as scars, fine lines or wrinkles, or discoloration. It is incredibly effective in reversing the appearance of aging in the facial skin by smoothing out the texture and fading any age or sun spots. It is also highly recommended for patients suffering from acne scars as it can be very effective in reducing the appearance of that as well.
Who is a good candidate for laser skin treatment?

While laser skin resurfacing can be very effective for many people regardless of their skin type or condition, it has shown to be less effective on patients with very dark skin tones as the risk for resulting hyperpigmentation is much higher. There are a couple of types of laser resurfacing skin treatments that are more effective than others for patients with darker skin tones, so make sure to ask your physician about laser treatments that are done with non-ablative lasers, picosecond, or Q-switched lasers as they all offer longer wavelengths which are much safer for darker complexions. Laser resurfacing treatments are not as effective for deep wrinkles or sagging skin, so you may want to consider other skin rejuvenation options if either of those concerns you. This kind of treatment is also not recommended for patients with active acne or stretch marks.
How does laser skin treatment work?

There are two main types of lasers used for skin resurfacing; ablative lasers and non-ablative lasers. Ablative lasers work by removing the outermost layer of skin and heating the skin that is underneath, causing minor wounds that produce collagen while healing. This new stimulation of collagen provides more firmness to the skin, improving the overall texture by filling in fine lines and shallow wrinkles. As the skin that was treated continues to heal, it continues to appear smoother, tighter, and have a more even complexion. Non-ablative laser skin resurfacing is a less aggressive treatment than ablative lasers meaning the results are slightly less dramatic, but still works by stimulating collagen production and has a faster healing time. With both approaches, the laser beam is getting rid of the top layer of skin, almost like an exfoliator, and heats the skin underneath to force it into a healing process.
How long does laser skin treatment last?

The results provided from laser skin treatments can last for several years with proper skin care and after-care. It is natural to develop more wrinkles or fine lines as you continue to age, so to prolong the youthful results of your laser treatment, make sure to wear proper SPF to protect your skin from sun damage, have a good quality skin care routine, and avoid behaviors that can cause your skin to age more quickly such as smoking and excessive drinking. Ablative laser treatments often only require one session but take several months before the full effects are completely realized as the skin takes some time to fully heal. The results provided from non-ablative laser treatments are more gradual and less dramatic, even with 2 to 3 sessions, and will most likely provide more noticeable results for evening skin tone rather than filling in wrinkles and fine lines.

To learn more about the treatment, contact us or schedule an appointment online. We have convenient locations in Princeton, NJ, and North Brunswick, NJ. We serve patients from North Brunswick NJ, New Brunswick NJ, Edison NJ, Sayreville NJ, Princeton NJ, Milltown NJ, Clyde NJ, Rocky Hill NJ, and surrounding areas.