Questions and Answers by a Gynecomastia Treatment Specialist
Joanna Partridge, MD

specializes in treating gynecomastia and can help you reduce unwanted chest fat. Gynecomastia is caused by an imbalance in the levels of the hormones testosterone and estrogen as well as several medical problems, including liver, kidney, thyroid, and adrenal disorders. If your breast size makes you feel anxious,

contact us

or

schedule an appointment

online. We have

convenient locations

to serve you in Princeton, NJ, and North Brunswick, NJ.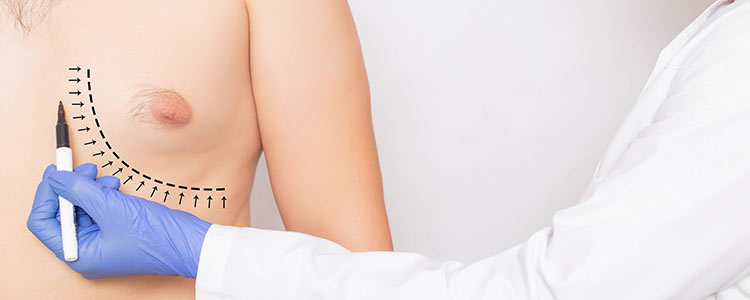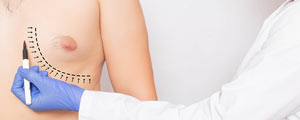 Table of Contents:
How can I get rid of gynecomastia?
What is gynecomastia caused by?
What to expect from a male breast reduction?
How do I know if it's excess breast tissue or fat?
Gynecomastia is a condition characterized by the enlargement of male breasts. It can be hereditary or caused by hormonal imbalance. Men who experience gynecomastia have a larger amount of fatty deposits and breast tissue in the chest. Several treatments can address this concern, but one of the most effective is the surgical treatment of gynecomastia.
How can I get rid of gynecomastia?


Plastic surgeons can utilize a variety of surgical methods to treat gynecomastia and precisely re-contour the chest. The methods used, which may include a variety of different liposuction and excision techniques, will depend upon the quantity and condition of any excess skin that is present as well as the composition of the chest. Patients that have excess fat tissue and good skin elasticity may see optimal results from just liposuction, while patients with loose or sagging skin may need to undergo additional treatments to achieve their desired results. No matter the situation, the plastic surgeon will develop a customized surgical plan designed to meet each patient's needs and goals while utilizing advanced techniques to minimize the amount of visible scarring.

What is gynecomastia caused by?


Gynecomastia is triggered by a decrease in the amount of testosterone naturally produced by the body. If testosterone levels drop too low, its organic ratio and balance with estrogen will be disturbed, and estrogen can exert a greater influence on certain physiological functions. These changes in hormone levels can be caused by many conditions, including puberty, aging, obesity, medication, and other health conditions.

What to expect from a male breast reduction?


A male breast reduction procedure is achieved by liposuction, removing excess fat from the breast. Additionally, if excess breast tissue is the cause of the enlarged breast, it is also removed from the breast. This procedure can also be combined with excess skin removal in order to avoid leaving behind excess hanging skin.

How do I know if it's excess breast tissue or fat?


It can be hard to differentiate between breast tissue and fat because they are similar in appearance. The biggest difference between the two is that breast tissue does not go away with a change in diet and regular exercise, often requiring surgical procedures to be removed. An easy way to tell the difference between excess breast tissue or excess fat in the chest is to check for an actual hard lump behind the nipple. Call us today to book an appointment with our gynecomastia treatment specialist, or visit one of our New Jersey locations: in North Brunswick, Princeton, and Surf City. We look forward to serving you! We serve patients from North Brunswick NJ, Clyde NJ, Edison NJ, New Brunswick NJ, Milltown NJ, Sayreville NJ, Princeton NJ, and Rocky Hill NJ.