Chemical Peel Treatment Specialist in Princeton, NJ
A chemical peel is a process that involves applying a chemical-based solution to the skin in order to get rid of the upper layers and damaged skin cells, treat wrinkles, and fix scars and sunspot pigmentation, all of which enhance the overall appearance of the skin. A chemical peel might help rejuvenate your skin if it is discolored, damaged, or shows signs of aging. Partridge Plastic Surgery's

Dr. Joanna Partridge, MD

provides personalized chemical peels that eliminate dry skin layers to reveal more vibrant skin. For more information,

contact us

or

schedule an appointment

online. We are conveniently located at

330 N Harrison Ste 1A, Princeton, NJ 08540.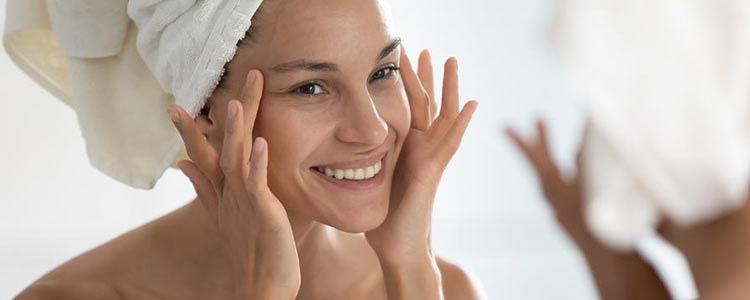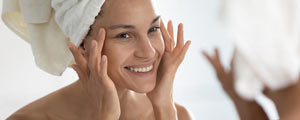 Table of Contents:
What can chemical peels help with?
How long does a chemical peel last?
Is chemical peeling good for your skin?
How many sessions does a chemical peel have?
Chemical peels are regularly used to treat a number of skin conditions, either on their own or as part of a facial treatment. They range in severity, with deeper chemical peels providing more dramatic results. The type of peel that is used will depend on the results each individual patient is looking for as well as their specific skin concerns and if they have any sensitivities.
What can chemical peels help with?

Chemical peels are a great skin care option as they provide effective and long-lasting results for both tone and texture concerns of the skin. It is a great anti-aging option as the chemical peel is able to smooth out fine lines and wrinkles as well as reduce the appearance of age-related pigmentation such as age spots and sun spots. In regards to anti-aging treatments, even the lightest chemical peel will offer beautiful results that will just be a bit more subtle and may require several treatments to achieve significant wrinkle reduction. Medium-strength chemical peels will result in noticeably smoother skin, and deep chemical peels will provide the most dramatic results both in texture and tone of the skin.

Light chemical peels are also often used to treat acne as well as dryness in the skin with it being the most appropriate option for patients with particularly sensitive skin. Medium chemical peels will also provide significant benefits in reducing the appearance of acne scars. Deep chemical peels are very effective in treating deeper wrinkles and are often used to reduce the appearance of scarring or pre-cancerous growths.
How long does a chemical peel last?

The longevity of the results provided from a chemical peel is dependent on a number of factors, the most significant of which is the strength of the peel that is used. Light chemical peels will likely need to be repeated every month or two to sustain the results, but after several treatments will likely allow patients to continue increasing the time in between treatments. Results provided from medium-strength chemical peels will often last anywhere from 2 to 6 months, whereas deep chemical peels can often yield permanent results. Maintaining a good skin care regimen that involves keeping the skin well-hydrated both through high-quality topical creams and by drinking plenty of water, as well as always sufficiently protecting the skin from sun damage and avoiding activities that lead to damage in the skin such as smoking will help to sustain the results provided from a chemical peel for much longer.
Is chemical peeling good for your skin?

Chemical peels require the use of fairly harsh chemicals, but when the procedure is performed by a qualified professional, the risks will remain very low. Deep chemical peels will definitely be a bit more intense for the skin, so they will most likely only be performed once per patient throughout a lifetime, with any recommended follow-up treatments only including light and medium chemical peels. When done properly and safely, chemical peels can be great for your skin, providing benefits that are often only attainable through more invasive or riskier procedures.
How many sessions does a chemical peel have?

The number of sessions required for a chemical peel depends on the intensity of the peel as well as the final goals of the patient. It is common for those opting for light chemical peels, which is the most popular option of the three to receive their peels once every 4 to 6 weeks until they achieve their final desired results, and also continuing along that schedule to further sustain the results. Those who opt for medium peels will often only require 2 to 3 sessions that are spaced around 2 months apart initially to achieve their desired results, following up with a medium or light peel every 6 months to sustain the results. Most healthcare professionals will only provide patients with one deep chemical peel in their lifetime, but they provide the longest-lasting and most dramatic results so follow-up treatments are often not necessary. The amount of time required for the skin to fully heal from each type of chemical peel varies a bit as well, with deep chemical peels taking the longest to provide the visible results and benefits at around 6 months on average, and light peels only taking a few weeks for the benefits to be noticeable.

Chemical peels can improve the appearance of your skin by reducing numerous indications of aging on the face, hands, neck, and chest. A Chemical Peel Treatment Specialist is available at Partridge Plastic Surgery. For more information, contact us or schedule an appointment online. We are conveniently located at 330 N Harrison Ste 1A, Princeton, NJ 08540. We serve patients from Princeton NJ, North Brunswick NJ, Milltown NJ, Clyde NJ, New Brunswick NJ, Edison NJ, Sayreville NJ, Rocky Hill NJ, and surrounding areas.